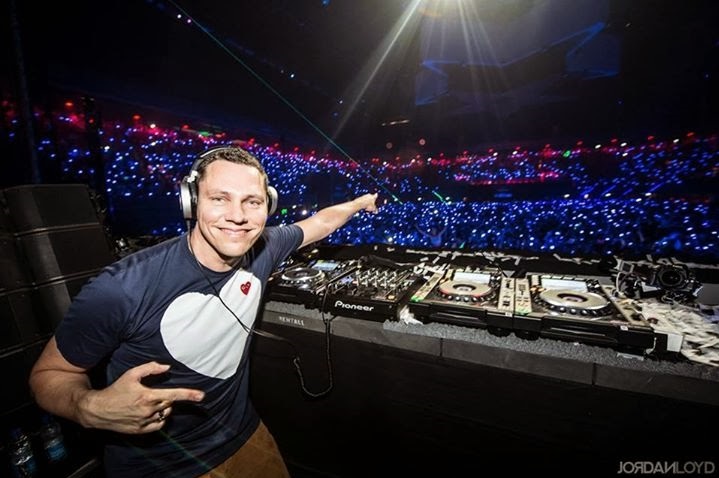 Music Producer Spotlight: Tiesto
DJ Tiesto is a music producer, musician and Dutch DJ whose real name is Tijs Michiel Verwest. He has several other names such as; Tiesto, Allure, Wild Bunch, Steve Forte Rio, Tom Ace, DT Limited and Stray Dog, among others.
The living legend was born 46 years ago in Breda, Netherlands. He launched his career in 1994 after releasing material for Noculan Record's Colman and Chemo. During those formative years, he produced hardcore tracks while using the names DJ Limited and Da Joker, and was later discovered by the general manager of Basic Beat Recordings, a man who was instrumental in grooming him.
Tiesto met Arny Bink after joining Basic Beat Recordings. Several months later, he released four plays on XTC and Bonzai Jumps.
In 1977, the DJ joined Yves Vandichel on the DJ Yves sub label, which was a division of XSV Music. The two individuals later established Black Hole Recordings after leaving Basic Beat. Through this label, DJ Tiesto created two other sub-labels, SongBird and In-Trance We Trust.
Personal life
In January 2008, a Dutch newspaper announced that the DJ and his girlfriend were intending to get married later in the year. However, he cancelled the wedding on the same date of the scheduled marriage ceremony, allegedly because of inadequate time for preparations. The following year, his girlfriend broke off their engagement.
Discography
Tiesto has produced six great albums; In My Memory (2001), Just Be (2004), Elements of Life (2007), Kaleidoscope (2009), Kiss from the Past (2011) and finally, Town called Paris (2014).
Club life
In April 2011, DJ Tiesto released his music compilation Volume 1 Las Vega, while Kiss from the Past, his studio album where he featured Christian Burns, Emma Hewitt and JES was released two months later. Club Life: Volume- Three Stockholm was officially released in June 2013 and managed to become position 16 on the Top 200 Billboard Chart.
A Town -Called Paradise was unveiled the following year and was ranked among the Top 100 on the Bill board chart even before it was officially released. The album consisted of Wasted, Red Lights and other singles, and also featured various guest artists.
In recent years, the DJ has accepted several corporate sponsorships as a result of the renewed interest of the corporate sector in Electronic Dance Music's audience. For instance, 7Up sponsored his 2014 tour.
Philanthropy
In January 2015, DJ Tiesto performed in a packed fundraiser in Amsterdam alongside other Dutch artists such as; Dinand Woesthoff, Trijnje Oosterhuis, Acda and Di-rect. The objective of the fundraiser was to provide financial aid to victims of the earthquake and tsunami that occurred in the Indian Ocean, southeastern and southern Asia in 2014.
In 2006, Tiesto was officially appointed as ambassador of Dance4Life Foundation. He was therefore tasked with the role of promoting HIV/AIDs awareness and also raising funds for the cause. This encouraged him to record the Dance4Life track along with Faithless and Maxi Jazz. The song was so successful that it was ranked position 3 for five consecutive weeks, and also appeared among Dutch Singles Chart Top 10 for an impressive 11 weeks.
DJ Tiesto and Giorgio Armani collaborated to release Elements of Life, after which they started producing Tiesto T-shirts that can be purchased at Armani Exchange Stores. The endeavor has raised more than USD 300,000 so far, and these funds have been donated to charitable organizations.
In 2012, he collaborated with Product Red to release the Dance Save Lives album, with the objective of donating all proceeds to the huge fight against HIV/AIDs.