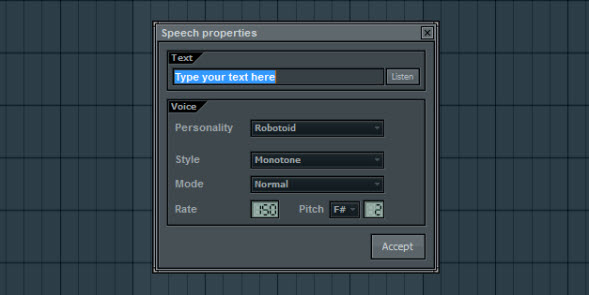 How To Create Computerized Vocals Without A Vocalist
The influence of technology is getting more and more popular with the passing of time, hence we can agree that we are living in the middle of a digital age. And the example which best represent our times are robots. From movies and sci-fi literature to music, they have become a permanent source of inspiration and fascination.
In the following article I am going to present a way of creating computerized vocals, with solely the aid of your mixing software. There is no need to explain in how many ways you could use this effect, so let's just point out that your electronic tune will get much more interesting with the proper use of it.
You will need a Speech Synthesizer which converts a written text to an audio, machine like talk and you will most probably have it in your music making studio program. It should be found in the Channels section – click on it and add a Speech synth. You'll see then a text box, this is where you type what you want the synthesizer to convert to audio.
Also, under the Voice section it is possible to adjust the features of the voice (e.g. voice, pitch). If you want to create the robot voice, select the preset Robotoid (default) under the "Personality" section and type in the text section the next line:
"hello stranger robot(1) talking(-2) here you can make it talk if(-6) you(-6) want(-6)"
The numbers included into the parenthesis modify the pitch of the separate word  by semitones. Consequently, the word "robot" is pitched up by one semitone and so on.
After you click Accept, the text will be converted into a sliced audio clip and saved on your hdd. The slices created behave like notes in your Piano Roll, so you can modify them according to your inspiration, adding effects, fade in/out, pitch shift, slicing threshold etc.
All you have to do now is to check the result and enjoy incorporating it into your electronic music and by any means necessary don't forget to experiment as much as you can with this new technique you just learned. It should do wonders for a small chorus or a bridge but at the end of the day it's up to you as a music producer to add some neat texture in the process. Have fun