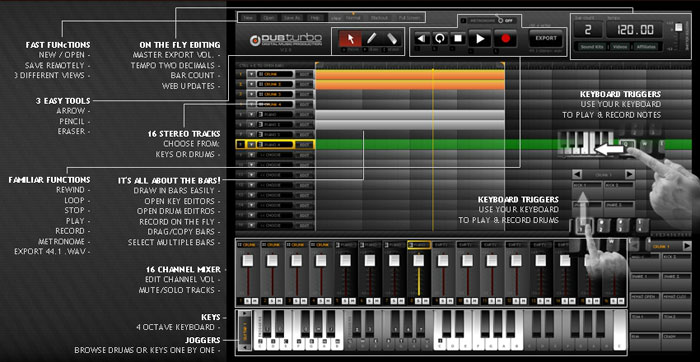 What to Look for in a Music Making Software

The type of music making software that you are going to use will greatly affect the total quality of the music that you will produce. That is why it is important to opt for the best software for making music in order to be able to produce world-class quality tracks.
While there are plenty of programs that allow you to make music at home using your computer, some brands have limited features. This will also limit your usage and your flexibility to create better tracks.
Therefore, choosing which software to use is a crucial step that can make a lot of differences to your song composing and music production venture. This may sound easy to do but it can also be tough and challenging, especially for amateurs with little knowledge on song production using software. But if you know what to look for in a product, finding the perfect brand won't be that difficult, at all.
It will not take weeks to learn but with little information on the required features, you can quickly find the ideal software for you. Here are some of the things to look for when shopping for beats makers.
Drum Machine
Regardless of the music genre that you are going to produce, you will definitely need the reverberation of pounding drums at some point or behind the backdrop of your song. Therefore, look for music maker furnished with fully mastered drum machine for awesome quality sounds. The drum machine should also let you record your beats with triggers, or draw it in.
Wobble Makers
If you are going to make dubstep music or drum and bass tracks, then you will certainly need a wobble maker that lets you create deep oscillating bass. Take note that not all brands have a wobble maker. DUBturbo is equipped with Wubwub & Wub2 for PC version that lets you make your own wobbles. In fact, it has four oscillators for better flexibility in your selections. You can quickly change octave, modify the shape, or fine tune your beats. There are also presets and custom sounds made by almost any instrument, and you can easily tweak your wubbs for ultimate uniqueness of your tracks.
Get DUBturbo today. Download now!

Octave Keyboards
Keyboards let you create melodies from different instruments like drums, flute, piano, guitar, and sax, among others. This is one of the important features that the product should have. On top of that, the functionalities of the keyboards should allow you to edit volumes, quickly change selections, and auto quantize your recording.
Track Sequencer
Similarly important is the track sequencer, which gives you the maneuverability to move around using the keyboard shortcuts for faster audio production. The sequencer further allows you to draw in or trigger sounds using the keyboard shortcuts, drag and copy bars, tap in or draw your beats, draw in bars, record live, and jog through numerous selections of drums and sounds.
Loads of Samplers
Samplers make music making quick, easy, and fun. Just load various samples to your folder and choose a main sample. Afterwards, you can control the pre-loaded samples using your keys and make necessary edits to make your piece truly unique.
The Interface or the Dashboard
Another essential feature to look for is the dashboard or the interface of the program. Ensure that it has access to all features in just one click of a button for seamless audio production. The interface must be user-friendly, as well.
24/7 Customer Support
You may probably encounter issues during your first try. If you are having trouble using the music making software, it is important that there is someone that you can immediately turn to for help or to get support from. Therefore, check the quality of the customer service and make sure that it is available 24/7 so that you can directly contact the customer support representative anytime of the day regardless of the time zone you are in. The representative should be friendly and professional enough when handling queries.
Video Tutorials
Don't purchase any software without video tutorials. It's hard to find out the features and functions on your own; it is also time-consuming. Videos can help you every step of the way in making music using the software. It must be in-depth yet simple. A pdf version should come in handy for more details. But it must be accompanied by video tutorials for easy and quick learning on using the program. DUBturbo beats maker has DUBturbo video tutorials that make it easy for you to use the program and to compose your songs.
Get it here!

Risk-free Guarantee
You might not like the program or it may be too complicated for you to use, whatever your reasons are there should be no question asked when you request for a refund. Not all brands will give you a risk-free guarantee. So, check if there is a guarantee offer as part of the package. Don't forget to check the number of days you are allowed to make a refund-request, as well; the longer the guarantee period the better.
While there are other features that can further enhance your beats making experience, it is important to note the fundamental features that the software should have for flawless production of audio tracks. Don't make just any music, but create and compose songs with ultimate quality, which is largely influenced by the quality of the program you are using. Once you have chosen the right brand, you can make your own music at your own pace, during your free time or as much as you like.
More Tips
Keep in mind that even if you have the music making software  installed in your PC you may still need additional investment on accessories and gadgets. The speakers system and the sound card of your computer is not enough to give you high-quality sounds. You may have to buy an audio interface and a studio monitor for a perfect experience; although, you can upgrade later on.
But as for now, start looking for the perfect music maker. To ease out your burden, go straight to DUBturbo. It is already fully equipped with the above-mentioned features, and so much more.
Get DUBturbo today.