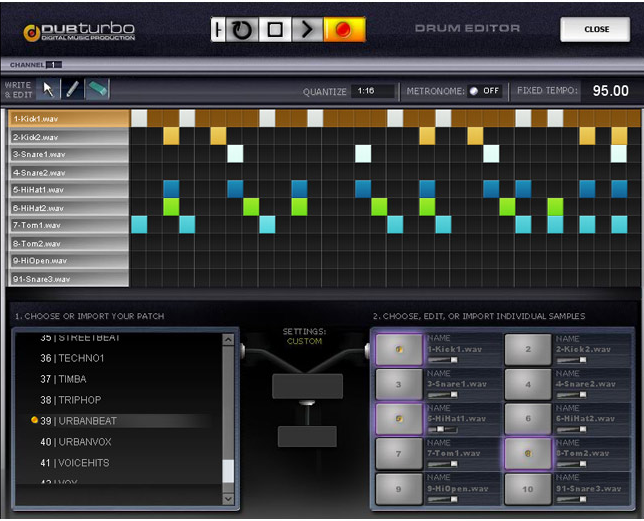 Online Music Studio Versus Downloadable Beats Makers

If you are planning to compose your own beats, one of the few challenges that you will probably face is choosing between an online studio for music making and a downloadable program.  While this may be quite confusing at first, if you know the main differences between the two, you will quickly and easily decide which option is the best for you.
Make Your Own Beats Online
First and foremost, it is advisable to have a short glimpse of what an online music studio is. Literally, they are programs accessible online. Just head on to the website and once you are there, you can directly use the software without worrying about installations.
Not all online software are free. There are also premium sites where access to the software is only possible once you are subscribed to it. In this case, you may have to login first before using the software. This is quite different from the free ones since you can use them directly without logging in.
On the other hand, downloadable programs can only be used once it is installed in your computer. It must be correctly installed, as well; otherwise, it may not work properly. These programs may be downloaded online, either for free or upon payment of certain fees. Some are available in DVD form, which you can install using the DVD-ROM drive.
There may be some free downloadable music beat maker. But watch out; most of the time, they are bundled with malicious programs that may infect your hard drive with virus. Some of them are bundled with 'spyware' that will observe your browsing habits and then bombard you with loads of annoying ads. But there are also clean software free of malicious programs. The only problem is it is quite difficult to distinguish nowadays between a free clean program and software with undeclared bundles.
Either way, differentiating between the two may help. But you are better off knowing the pros and cons of each option.
Pros and Cons of Online Beats Maker
Pros and Benefits of Online Studios
Online programs have several advantages over downloadable products. Here are some of the significant advantages and benefits of using online software.
Better usage flexibility
Since the program is accessible online, therefore you have better flexibility on its usage. You can use the software practically anywhere, anytime of the day for as long as you have internet access. You don't need to use a specific laptop, as well. You can use the program using different computers and gain access to it at internet cafes, in your friend's house, or in your office during your break time.
This is also very convenient if you are travelling to a distant place since you don't need to bring along your own laptop with you. You can still use the software and compose your songs even while travelling on a vacation trip while your motivational level is at peak. This is probably one of the most dominant advantages of online programs over downloadable software.
Utmost usage flexibility – how's that sound to you? Get a music making software that you can use anywhere with WiFi access.
Get it here.

Free Up Space
Unlike downloadable programs that normally require certain memory space, online software won't use a single megabyte of your hard drive memory. This gives you savings in terms of hard disk memory and you will have no worries about space problems on your hard drive.
Cons of Using Online Software for Music Making
While the free program gives you a remarkable advantage of flexibility, there are disadvantages, as well.
Requires Internet Connectivity
Obviously, online programs can only be used when there is internet connectivity. If there are problems with internet connection, you can't go on with your audio production. This can also pose a problem if you are travelling in places with limited Wi-Fi areas, as well as in hotels that charge for Wi-Fi access.
Limited Features
You will not enjoy the full potential of the software online compared to the expansive power of downloadable beats markers. You will only access the basic features. Web owners have to keep the site light. Otherwise, they will encounter speed problems. Those advanced features will make the site heavier, thereby slowing down the speed. This will greatly affect the user-experience.
Annoying Ads
If they are free then there must be some strings attached to it. Actually, nothing is free today. There must be some catch if something is offered for free; otherwise, the owner is only burning cash maintaining the site without something in return. This is just plain logic, right.
One of the strings attached to the free offer could be ads. The site owner is making money from ads. More people using the free product equates to more viewers to the ads. This will increase the chances of those ads being clicked on, giving the owner sufficient income to maintain the website.
On your part, those ads at the sides and sometimes popping out of nowhere here and there could distract you. They can also delay your production time. However, if you are going to use a premium service, then you may not encounter ads problems at all.
Pros and Cons of Downloadable Music Software
Use of downloadable beat making software for PC has pros and cons that are contrary to the advantages and disadvantages of using the online services.
Advantages of premium and free beat maker download
More features more power – there is no limit to the full features of the product, no matter how advanced the features are.
No need for internet connection – use the program anywhere regardless of the availability of internet. You can even use it during power outages for as long as your laptop battery lasts.
No ads – regardless if it is free or not, you are assured that there will be no advertisements due to absence of internet connectivity.
Don't put your song writing and music production to a limit. Get a premium program loaded with awesome features for ultimate power.
Download now!

Disadvantages of downloadable products
Limited usage flexibility – you can only use it on a specific computer where the program is installed. Additional license may be required if you want to install it in another laptop. This will be added cost on your part for premium software.
Requires hard drive space – every installation requires hard drive space. If you have enough memory space in your hard drive then this should not be an issue.
By knowing the pros and cons of each option, you should be in a better position right now to decide which is best suited for you. However, there is software that is available online and as a downloadable program altogether- does this sound better?
Get it now!